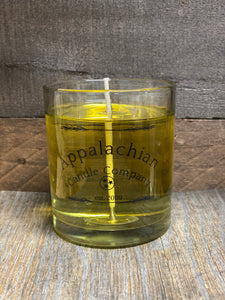 Hand Poured Whiskey Glass Candle
Our hand poured whiskey glass candle will fill your home with a delicious fragrance. After you finish burning your candle, you can wash it out with Dawn and waalah the perfect Whiskey Glass or juice glass!
Small Batch, Hand Poured Soy Candles.
Stefanie Gorman acquired her family business in 2018. Appalachian Candle Company is family owned candle company that offers premium, wonderfully scented, hand poured, clean burning, long lasting, organic soy candles. We continue the family tradition of hand pouring each candle for that personal and loving touch," Stefanie is a former elementary school teacher that was born and raised in the heart of the Appalachian Mountains. We are thrilled to announce our Shining a Light on Literacy initiative. A portion of every candle sold will go towards a literacy initiative that will put more books in children's hands. We set up a book sharing library at locations across the country. This will be a place that children can take a book to read, and children can donate books for other children to read. We are so excited to take this next step in helping to inspire and foster a love of reading in our nation's children. Stefanie is dedicated to helping promote children's literacy and inspiring a love for reading. By setting up these book sharing libraries we will be getting more books into the hands of children.
Shining A Light On Literacy
A portion of all candles' sales will go towards our Shining a Light on Literacy initiative that will put more books in children's hands. We are excited to help foster a love of reading in our nation's children
Find out more